---

---
---
Florida Criminal Justice And Efforts To Keep Incarcerated Youths Out Of Adult Prisons
By JOSEPH COOPER, BONNIE BERMAN, RICHARD IVES & PAUL LEARY . FEB 23, 2016
George's Note: My segment starts at the 24 minute mark. I encourage you to listen to the whole show-Jennifer Lutz from the Center for Children's Law and Policy spoke eloquently regarding issues surrounding incarcerated youth.
Topical Currents considers Florida criminal justice, and public campaigns efforts to keep incarcerated youths out of adult prisons. With 144 youth offenders housed within adult populations, Florida's system leads the nation.
And more. Former Florida State Prison mental health specialist, George Mallinckrodt. He's written a book about the experience, "Getting Away With Murder: A True Story", and strives to end prison sentences for the severely mentally ill.
Jenny Lutz is a staff attorney at the Center for Children's Law and Policy, where she oversees the Center's work to end the practice of solitary confinement of children in juvenile facilities. She also works to end dangerous and inhumane conditions for youth in custody, collaborates with communities to eliminate racial and ethnic disparities in the juvenile justice system, and helps public officials reduce the unnecessary incarceration of children.
---
---
"Getting Away with Murder" banned by FL DOC: George Mallinckrodt
January 20, 2016
By Mary Neal
George Mallinckrodt was a psychoanalyst in Dade Correctional Institution when he complained about #prisoner abuse and lost his job with Corizon Correctional Healthcare. He wrote a book titled "Getting Away with Murder" about inmate Darren Rainey, who guards scalded to death in 2012 at Dade. The Florida DOC has BANNED THE BOOK, which is now in its second edition, Corrections officers have escaped prosecution for Rainey's murder so far, and they reportedly enjoy taunting inmates with threats to "hot shower" them like they did to Rainey.

Mallinckrodt is being financially persecuted for his righteous stance for justice regarding prisoners' human rights in Florida, a state where 347 prisoners died in 2014 alone. Without your help, Mallinckrodt could lose his home because he refused to remain silent while his patients were being abused. Even though he is censored and persecuted, Mallinckrodt still refuses to stop advocating for disabled inmates in the USA. Please give generously to Mallinckrodt's fundraiser, and purchase a copy of his banned book "Getting Away with Murder" at Amazon.

I appeal to you, brothers and sisters, in the name of our,Lord Jesus Christ that all of you agree with one another in what you say and that there be no divisions among you, but that you be perfectly united in mind and thought (1 Cor. 1:10 ). We must stand with Mallinckrodt and protest his book banning. It is time to show that we care about the most vulnerable people among us and either unite together against injustices "or perish together as fools" (MLK).
---
---
"Seeking Justice: Abuse, Neglect, Torture and Death in Florida Prisons"
October 18, 2015
"An appalling 346 people died in Florida prisons last year . it is the responsibility of the governor's office to ensure the safety of the state's prisons. But under the leadership of Gov. Scott, conditions have deteriorated."
A coalition of 14 human rights groups this past Thursday called for a U.S. Department of Justice investigation into Florida state prisons, contending that "immediate intervention" is necessary to stop the widespread abuse, neglect, torture and deaths of inmates in the Florida Department of Corrections. In a letter to Assistant Attorney General Vanita Guputa, the group cited a list of suspected criminal and civil rights violations against prisoners, including torture and death by starvation, excessive use of force, medical neglect, misuse of solitary confinement, suicide, sexual assault and death and torture by scalding. Attorney Randall C. Berg, Executive Director of the Florida Justice Institute and Author/Whistle Blower George Mallinckrodt, join me Sunday Morning to discuss why this letter was sent and what we need to know about this very important issue.
Longtime Activist, Journalist, Coffee Party Director & Radio Host, Bobby Rodrigo brings you "I Take LIBERTY With My Coffee" on the Coffee Party USA Radio Network every Sunday Morning at 10:00 AM. Advocating engagement Bobby points out the Constitution is the Rule of Law and why it should remain so. Money in Politics, the Political Party Machine, Cannabis Prohibition and partisan blind allegiance is on full display as he advocates against the erosion of Constitutional Protections in the name of corruption & tyranny. "If we focused on following the Constitution we would solve many of the ills of our society." Offering guests from Political Organizations, Activism, Media & Artists Bobby invites you to join him Sunday Morning at 10:00 AM on Coffee Party USA Radio.
George's Note: For the full show go to:
http://www.blogtalkradio.com/ coffeepartyusa/2015/10/18/ seeking-justice-abuse-neglect- torture-and-death-in-florida- prisons
---
---
The Angryindian speaks with US Psychotherapist and Prisoner Rights Advocate George C. Mallinckrodt, author of "Getting Away With Murder: A True Story" (2014) based on the tragic and violent death of Darren Rainey, a mentally-challenged state of Florida prison inmate who was literally "cooked to death" while in custody as a punishment by vindictive correctional guards. They discuss the unconscionable lack of basic human rights and due process accorded to the incarcerated and the absurd levels of routine violence and horrible death-by-officer cases faced by the mentally ill and other vulnerable populations within the largest prison-complex in the world.
George's Note: At the end of the show there is an interesting explanation of Jury Nullification.
---
---
George Mallinckrodt ~ Florida
Mistreatment of the Mentally Ill
We will discuss the inhumane treatment of mentally ill inmates in the Florida DOC. George Mallinckrodt worked in the Transitional Care Unit at The Dade Correctional Institution. He is an author and wrote the book "Getting Away With Murder." This book tells the horrible story of Darren Rainey who was scalded to death in the shower as a punishment. George no longer worked for the DOC when Mr. Rainey was murdered.
George's Note: I was pleased to be on the show with Pam Deghand and Mark A. Clements. Mark was wrongly incarcerated for 28 years! When he was 16, Chicago detectives tortured him into a confession that led to his conviction. Jon Burge, the notorious former Chicago police commander, was the mastermind behind the group of officers who tortured hundreds into false confessions. Check out this link to Mark's amazing story:
http://www.chicagoreader.com/chicago/mark-clements-chicago-police-torture/Content?oid=3726642
---

---
---
Whistleblower George Mallinckrodt and Prison Mental Illness Treatment
| | |
| --- | --- |
| | Hosted by Joseph Cooper & Bonnie Berman |
10/29/14 - Today's Topical Currents looks at the often criticized Dade Correctional Institute.
State audits have cited a "lack of oversight and a culture of inattentiveness" in the facility. Former Dade Correctional Institute psychotherapist George Mallinckrodt goes further in his criticism. He's written GETTING AWAY WITH MURDER, which cites the death of inmate Darren Rainey, who died after punishment by correctional officers. Mallinckrodt and Miami Herald reporter Julie Brown are guests.
---
---
---
New Abolitionists Radio w/ former Florida prison psychotherapist George Mallinckrodt
New Abolitionists Radio welcomes special guest George Mallinckrodt, licensed psychotherapist and author of the book, Getting Away With Murder, a story detailing the events surrounding the murder of Darren Rainey, the inmate who was boiled to death by prison guards at Dade Correctional Institution.
---

---
---
Gulf Coast Live! on WGCU

Hosted by John Davis
---
Recent investigative reporting by the Miami Herald into abuse, torture and death of inmates in Florida prisons has raised public concern regarding the treatment of inmates and cultures within correctional institutions in the state. Those cases include the death of Dade Correctional Institution inmate Darren Rainey who was confined to a scalding hot shower until he collapsed and died along with the death of Franklin Correctional Facility inmate Randall Jordan-Aparo who died after being placed in solitary confinement and gassed several times by guards while requesting medical treatment for a worsening health condition.
The Florida Department of Law Enforcement has begun investigating, four Florida Department of Corrections investigators have filed a whistleblower complaint, and one warden so far has been fired. We'll explore conditions within Florida 's prison system and what improvements can be made going forward. We'll also highlight the death of Immokalee resident Justin Campos in a Florida prison, and his family's continued struggle to get information about his death.
How should Florida address the deaths of inmates in our prison system?
Guests:
Allison DeFoor, Chairman, FSU Project for Accountable Justice

George Mallinckrodt, LMHC, author and former psychotherapist with the Dade Correctional Institution

Angelica Robertson, sister of Immokalee resident and deceased former inmate Justin Campos
---

---
---
Prison Abuse and Prisoner's Rights
I've edited some of the broadcast to the segment where Gary York and I speak to issues from our respective experiences in the Florida Department of Corrections. Gary York shares insights gained from working in the Inspector General's Office for 12 years. His BIO is below.
---
Before Gary and I came on, the hosts, Sam Thurman and Cliff Stewart, spoke about the IRP6. They are six wrongly convicted men incarcerated in the Florence Correctional Complex prison camp in Florence, CO. Please check out this egregious miscarriage of justice:

http://www.freetheirp6.org/#!irp-solutions/cjg9
An impassioned call-in pleads for change as the pain in her voice is quite evident. I have garnered similar responses when I've spoken to people about the murder of Darren Rainey.
For those interested in the entire broadcast, it can be found in the A Just Cause Radio Archives at:
http://www.ajcradio.com/#!archive-june14/c4yh.
Or the taped broadcast on: http://www.blogtalkradio.com/ajcradio2/2014/06/27/a-just-cause-coast-2-coast--prison-abuse-prisoners-rights.
Gary York served in the United States Army from 1978 to 1987 and was honorably discharged at the rank of Staff Sergeant from the Military Police Corps. Gary received the Army Commendation Medal and Soldier of the Quarter award while serving. He then began a career with the Department of Corrections as a Correctional Officer. Gary was promoted to Probation Officer and later to a Senior Probation Officer. He was promoted once again to Senior Prison Inspector where for the next twelve years he conducted Criminal, Civil and Administrative investigations in many state Prisons. Gary was assigned with the Inspector General Drug Interdiction Team conducting searches of staff and visitors entering the prisons for contraband during weekend prison visitation.
---

---
---
Is There A Culture Of Abuse At Dade Correctional?
By WILSON SAYRE
As Dade Correctional Institution comes under fire for not resolving a two-year-old death of an inmate, allegations of abuse and failure to hand over reports have come to the surface.
---
Almost two years ago, Darren Rainey was found dead in a scalding-hot shower at Dade Correctional Institution. Despite several accounts that the 50-year-old, mentally ill inmate's death was the result of abuse, no one has been held accountable, nor has the medical examiner completed an autopsy.
George Mallinckrodt was a psychotherapist who counseled inmates at Dade Correctional. He has filed a formal complaint to the U.S. Department of Justice regarding Rainey's death. Mallinckrodt talked with me as former employee about the culture of abuse he saw -- and fought -- at the prison.
Below is an edited version of our conversation.
---
What did you see while working at the prison?

I've seen trash-talking that maybe went over the line [but] when I was new and fresh into my prison experience. I blew it off. Then, as I became more attuned to inmate abuse, I realized [it] wasn't just somebody getting beaten. I did a number of incidence reports on guards that would go by an inmate's cell and torment them, call them really nasty names -- "diaper sniper," "baby raper" and then a whole lot of names I can't repeat.
So these guards would get these inmates so riled up that the inmates would then come back at them and start swearing and yelling, and then the guard would say, "I'm writing you up." We called it the Bogus DR -- the bogus disciplinary report.
They would ensnare these inmates and when you have a DR, you don't get canteen, you don't get certain things. Your privileges are reduced. So it was a game they played that, once I became privy to, I realized this is inmate abuse.
---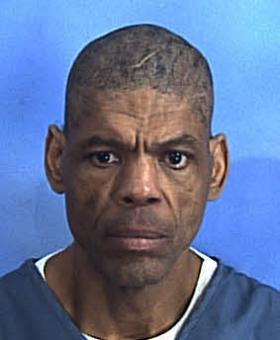 Credit Florida Department of Corrections
Darren Rainey was found dead in a scalding-hot shower at Dade Correctional Institution. There are allegations that his death came as result of abuse and neglect.
---
Did you ever bring that up to superiors when you were there?

Yes. An inmate named Joseph Swilling was beaten by guards. He was handcuffed behind his back, thrown to the floor in the hallway where there were no cameras, and four or five guards started kicking him.
After he revealed to me directly that he has been beaten, I asked [my superiors], "Are we going to talk about this? Are we going to do something about this?" We just had what amounts to what I thought was a felony assault and there was dead silence in the meeting.
Finally the senior psychologist looked over at me and said, "Well, Mr. Mallinckrodt, if you're having concerns you should put it in writing."
Do you think there's a lack of means to report these kinds of instances?

Do you think it's a lack of response? If it's so pervasive, why hasn't there been a big push to do something about it?
Well, one of the things that happens in the prison is that inmates can do what's called a grievance, an informal and a formal. Inmates do grievances all the time about inmate abuse. But the general prevailing attitude towards inmates is "inmates lie." But what I found out is that inmates may lie, but they tell the truth too, and we need to pay attention to what they're saying because obviously [Rainey's] situation was ongoing and now it's finally coming out.
You know these guys that are in prison - and definitely deserve to be there - they're there to pay their debt to society, not to get tortured or beaten or murdered, so I'd like to see that resolved.
---
The Florida Department of Corrections did not respond to requests for interviews. We could not find any official reports regarding Swilling's alleged beating, but he may have filed a grievance with the prison. The prison was not able to offer interviews.